I ran across
Plastidermy
on Etsy by complete accident (but a very happy accident.) I immediately fell in love with their unique take on taxidermy! Not only do I absolutely adore what they do, their story really touched that special place in my heart where I hold my childhood memories!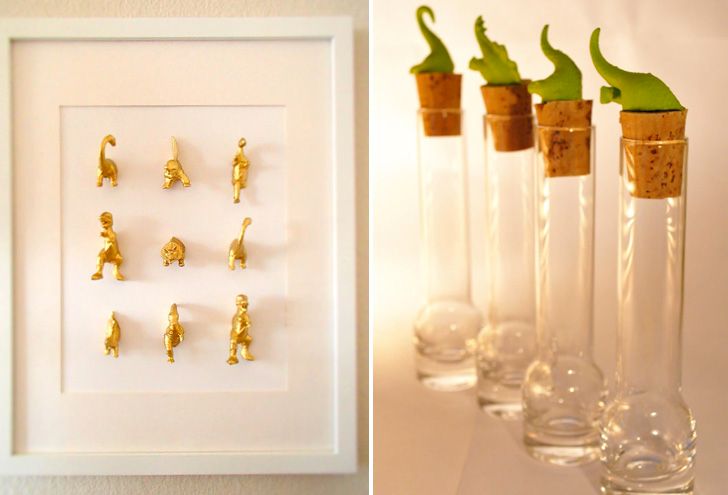 So how did Plastidermy come to life? Mary and her husband had been literally toying with some ideas on how to repurpose childhood items. They both had some really memorable toys as children that they parted with, that they wish they could somehow resurrect and bring into their adulthood. With that in mind, they knew that maybe that was a feeling other adults could identify with. So after a few long car drives and brainstorms they came up with Plastidermy. It's a way of incorporating childhood mementos into our daily lives in a very quirky but adult like way.
Their inspirations come from that feeling you had when you were a kid building forts in the living room and pretending you had magical powers, that kind of limitless abandon is what inspires them. Mary and her husband, both, suffer from the "Peter Pan" syndrome to some degree and thrive in that childlike enchantment. Their childhoods were spent playing outside and imagining the impossible, and now that they are adults they both let that experience inspire them to create things which are age appropriate but not absent of fun.
They have been kind enough to offer one of their
5x7 3D Golden Triceratops art pieces
to one lucky winner!
a Rafflecopter giveaway
"Our entire workspace looks like a plastic animal horror story and we are basically the serial killers. We chop and saw all of the animals in half or cut off their heads to incorporate those pieces into our work. We are left with unused halves and decapitated plastic animals and it looks kind of sad. The whole process of working the animals can be a little sad because in a way we are destroying the toys from their original state and working them into something new. We have a sleuth of super glue frenzy horror stories in which we were harmed, not the animals."